NEW ENGLAND DIGITAL
Norwich VT, White River JCT, VT & Lebanon, NH 3/1986 to 9/1992
Pioneer manufacturer of digital audio workstations (Synclavier® and Post ProTM) used in the worldwide entertainment, music, audio recording, film and video post-production markets (System prices $75K-$750K). This was the Rolls Royce of Digital Audio Workstations! I got to work with many of my musical hero's, like STING, Genesis, The Cars, Michael Jackson, Aerosmith, Steven Tyler, Pat Metheny, Herbie Hancock, and many others!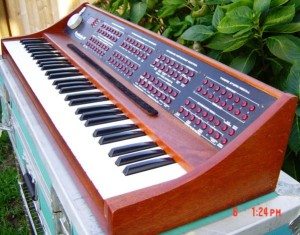 Marketing Specialist, Marketing & Sales
Managed world-wide marketing communications (direct and distributor) including advertising, events, direct mail, lead fulfillment, brochure production, and providing product development assistance to R&D.
Responsible for the production of results-driven marketing plans and company wide graphic needs such as, multimedia disk-demo's, outside investment proposals, full color advertisements and brochures, newsletters, press kits, product fact sheets, product plans, price lists, and audio-visual presentations.
Performed marketing research for Sales, Marketing, and Product Development to define short and long term marketing goals and strategies, with the goal of reaching the organizations profit and revenue targets. Gathered data on product line performance, customer attitudes, potential product problems and market opportunities. Researched product improvements to meet changing market needs.
Member of New Product Development Task Force Team. Participated in writing of functional specifications
for new products. Assisted in packaging, pricing, promotional programs, sales aides, and market research. Assisted sales in development of competitive strategies for new and existing products. Assisted R&D in development and design of state-of-the-art Macintosh graphical user interfaces for company software packages.
Directed graphics in the production of an award winning(BPAA) promotional video featuring extensive 3D animation, music, and post-production special effects.
Brought advertising and collateral production in-house saving company 160% over outside ad agencies resulting in a cost savings of $46,000. Brought lead fulfillment in-house saving company 85% over outside fulfillment service resulting in a cost savings of $12,000 and increasing responsiveness.
Network Administrator. Macintosh & PC expert with extensive experience in multimedia/video/sound,
desk-top publishing, Hypercard,and database applications. Responsible for training new employees on software applications and computer systems. Analyzed department computer needs and made recommendations for hardware and software purchases.
Senior Software & Hardware Support Specialist
Supported world-wide service organization for our digital audio workstations used in video, film and recording studios.
Responsible for training product specialists, technicians, and new employees. Supported 25 field office product specialists, sales engineers and distributors as well as customers with all service related issues.
Developed, produced, implemented and sustained a software/hardware bug tracking and feature request database management system. Generated status reports for senior management outlining serious problems that required immediate attention. Implemented electronic feedback network between customer base, Marketing, R&D and Production.
Created all graphic and DTP projects for Customer Service as well as assisting entire organization's graphic needs. Created hypercard on-line computer help programs for employee's & customer base.
Managed customer service testing studio utilizing complete range of audio/video equipment used to duplicate real life operating conditions at customer facilities.
Sales Engineer and Telemarketing Specialist, Sales & Marketing
Managed sales territory not covered by our regional sales offices and distributors.
Exceeded assigned sales goal of $500K/year.
Developed, implemented and sustained a telemarketing database and pre-qualified prospects for all sales offices and distributors.
Developed, implemented and maintain a company wide computerized lead tracking system
for all sales offices and distributors. This system allows tracking the sales cycle from initial contact to close of sale. The effectiveness of marketing promotions could therefore be judged.
Created a modular sales proposal system designed to enhance sales proposals (including executive summary, sales quotation, company history, credits, glossary of terms, etc.)