BIG COMMERCE Store Design On-line Ecommerce Shopping Cart System combined with SVEND SEO means MORE Online Sales! Big Commerce is the best cart going these days!
Big Commerce Store Design - Low Monthly Cost and Ease of Use Is Key To Higher Profits
My online store system is a dynamic storefront development and management system that enables you to create, enhance, and maintain an online storefront presence easily, all from your web browser. From easy point-and-click look and feel enhancement to advanced management of order and customer data, Big Commerce Store can do it all.
Big Commerce includes a complete set of step-by-step wizards to simplify the process of managing a store. It also includes an Advanced Administration mode, for those users who are more familiar with the inner workings of an online storefront, which allows access to an assortment of built-in features. Aftermarket modules integrate seamlessly, providing additional features and flexibility, thanks to the modular architecture.
And the best part is the monthly fee for this system is very low so you can quickly be making a profit from your online business!
But THE BEST reason to pick Svend Design for your Store?? I can get you TOP 20 Results on Google!! You HAVE TO BE AT THE TOP TO SUCCEED!!
Big Commerce Store Design - EASY TO GET STARTED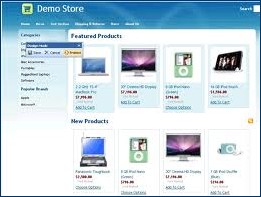 SVENDMerchant has a number of convenient, point-and-click look and feel enhancement tools designed to give you flexibility for customizing your store. In addition to the pre-defined templates, Miva Merchant offers HTML-ready headers and footers on each storefront page. You can also easily integrate your Big Commerce storefront into your existing website, or use the look and feel tools to create a unique, stand-alone shopping experience.
Easy to Collect Money
SVENDMerchant has a wide variety of built-in payment modules, designed to work smoothly with industry leaders. These payment modules were designed in partnership with the Payment Gateway providers, to ensure security and ease-of-use. Just turn it on, enter your account information, and the payment module does the rest.
If convenience is what you desire, we offer Payment Gateways. Tightly integrated into SVENDMerchant, Miva Payment features advanced fraud screening, an online Virtual Terminal, and order processing directly through the SVENDMerchant admin interface. Coupled with our world-class customer service, Big Commerce Payment offers you a complete credit card processing solution.
Easy to Ship Orders
FedEx, USPS, and UPS shipping calculators are included with Big Commerce. These modules retrieve shipping rates directly from the service providers based on the weight of the order and the distance it will be traveling. In addition to these automatic shipping calculators, we have included a number of table-based shipping modules to help you offer a range of shipping options to your customers. With the table-based shipping modules, you can build your own shipping rate tables to meet your needs.
EASY TO MANAGE
Big Commerce has extensive management systems that handle all the aspects of products, categories, customers, and orders. With an easy-to-use administrative interface, managing all of your store's data has never been easier.
Manage Products
Big Commerce allows an unlimited number of products to be listed in your storefront. Detailed product descriptions can be created using HTML, and product attributes can be assigned to display options. The product management system helps you organize your products and easily manage all product data.
Manage Categories
Just like products, Big Commerce can handle an unlimited number of categories. Use the category management system to create your main categories, and further specify with sub-categories. Assigning products to categories and sub-categories is conveniently handled within the category management system.
Manage Customers
Keeping track of your customers can be a hassle. But with Big Commerce customer management system, it's a snap. Customers can create accounts on your storefront, and add or update their contact information. Using your customer database, you can offer special pricing and products when customers sign-in to your store.
Manage Orders
Your Big Commerce orders come into a centralized location within your Miva Merchant admin. Under Order Processing, you can batch your orders at the end of the day, run a batch report to analyze order data, and even process your orders through your payment gateway right from within Big Commerce.
Big Commerce Store Design - WE OFFER SOMETHING SPECIAL HERE AND SOMETHING THAT IS VERY EXCLUSIVE - WEB HOSTING WITH SEARCH ENGINE OPTIMIZATION INCLUDED! NOW YOU CAN GET YOUR WEB SITE TO THE TOP OF GOOGLE!